This content has been archived. It may no longer be relevant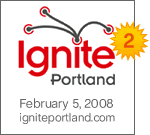 Hey Portlanders, you have till Tuesday the 15th to get your proposals into Ignite Portland.http://www.igniteportland.com.
I sent in a proposal a while ago. I probably wrote the thing sometime around 3 in the morning so, I'm not too sure if it sounded coherent or not. You can read all the proposals and submit your own if you would like at the Ignite Portland site. If you are passionate about anything at all and would like to share that passion, you should submit.
[If you have a great proposal and need help putting a presentation together, please don't hesitate to ask. I'll gladly help you implement your idea into presentation form for this]
The first event was amazing and the upcoming 2nd Ignite event should not be missed!
I hope to be presenting this time, if not, I hope one of you will. It would be great to see the proposal board explode with entries. I certainly can't wait till the event.