This content has been archived. It may no longer be relevant
Tuesday February 5th is just around the corner and there are two wonderful events going on that should not be missed.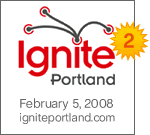 Ignite Portland 2
Tuesday, February 5th
6:00pm – 9:00pm
Bagdad Theater
3702 S.E. Hawthorne Blvd.
Portland, OR 97214
Admission is always FREE
It will be an amazing time. The only problem that I have with ignite is that they scheduled this event on super Tuesday where many states will be voting in the primaries.
So, if you want to keep an eye on the politics going on join me at Beulahland to watch the results of the voting.
No matter who you support you are more than welcome to show up although most of the crowd will be Obama supporters.
Both events will be worth checking out, it's unfortunate you will have to decide what one to go to and what one to pass on.